The Big East Regular season is done. I'm contributing to the NBE Basketball report's compilation of All Big East Players 1st, 2nd, and 3rd teams, Player of the Year, Rookie of the Year, and 1st and 2nd team rookies. Note that under those rules, the player of the year is NOT listed on the All Big East 1st Team; if he was, my POY Luke Harangody would have bumped Joe Alexander down to the second team, who would have bumped Sam Young to the third team, who would have bumped Geoff McDermott to the last player out. Make sense? I bet it does.
My Final Power Poll:
1. Georgetown (GT)
2. Louisville (LOU)
3. Connecticut (CONN)
4. Notre Dame (ND)
5. Marquette (MARQ)
6. West Virginia (WVA)
7. Pittsburgh (PITT)
8. Syracuse (SYR)
9. Cincinnati (CIN)
10. Villanova (NOVA)
11. Providence (PROV)
12. Seton Hall (SH)
13. St. John's (STJ)
14. DePaul (DEP)
15. South Florida (USF)
16. Rutgers (RUT)
Player of the Year: Luke Harangody (ND). Who else? He's unbelievable on offense, credible on defense, and gets a touch on every one of his team's possessions. Crazy hustle. Good rebounder. Tough and angry as they come.
Coach of the Year: Rick Pitino. Because if it ain't coaching, I don't know what explains why they're so good.
Defensive Player of the Year: Hasheem Thabeet (CONN) - a game changer at center.
Freshman of the Year: DeJuan Blair (PITT) - not Dominique Jones? Or Jonny Flynn? I think Blair had to shoulder a lot for Pitt, and did so admirably, handling the dirty work of blocks, steals, and rebounds (especially offensive).
Most Improved Player: Luke Harangody (ND)
Predicted Tourney Champ: Louisville
ALL BIG EAST FIRST TEAM
F Joe Alexander (WVA) - I freely admit I'm a fan of his game. As they called it in St. John's season finale, he's about the one dribble and dunk. With a decent jump shot, and good court sense. Fandom probably elevates him to the first team over Sam Young, who is as good.
C Roy Hibbert (GT) - A Much more polished offensive option than the other big center. Needs to rebound at a higher rate, but still a game changer.
G AJ Price (CONN) - Excellent passing the ball, Price (aka LAPTOP #2) directed a team of non-ballhandlers to a 24-7 record.
G Jonathan Wallace (GT) - Just steady, though unspectacular. Toss up here with McAlarney.
C Hasheem Thabeet (CONN) - Doesn't get great offensive position, but completely changes the game on both ends. Hit his foul shots this year.
ALL BIG EAST SECOND TEAM
F Sam Young (PITT) - Spectacular year out of seemingly nowhere. Was a candidate for most improved player in my book. Better outside shot and field goal percentage than Alexander, but not a passer.
F Jeff Adrien (CONN) - Solid finisher, the recipient of a fast-break offense started by Thabeet and run by Price.
C David Padgett (LOU) - Much better with him in the lineup. Played only half a season, but he's been the linchpin for the (possibly) best team in the conference.
G Deonta Vaughn (CIN) - Sophomore carried his team for most of the season until Big John Williamson took over. Deadly when hot.
G Kyle McAlarney (ND) - Deadly all the time. Will pass the ball but is mostly a shooter.
ALL BIG EAST THIRD TEAM
G Draelon Burns (DEP) - Like Deonta Vaughn, he carried his team, but has some quiet days and cold streaks.
C Arinze Onuaku (SYR) - Nasty good on defense.
G Jerel McNeal (MARQ) - Known for his thievery, is also a good assist man. Needs to improve on 25.6% from the 3-point line.
F Kentrell Gransberry (USF) - Gets to the line and a bull in the post. Made USF a tough out every night with little talent around him.
F Geoff McDermott (PROV) - Turns down shots too much, but a great passing and defensive forward.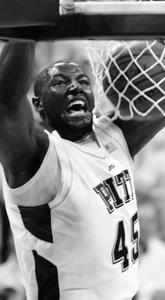 Freshman First Team
F DeJuan Blair (PITT) - see above.
F Mac Koshwal (DEP) - Really good rebounder. Shows some flashes of being a real difference maker.
G Jonny Flynn (SYR) - Good scorer and passer needs to improve behind the arc and/ or get to the FT line.
G Austin Freeman (GT) - He's ridiculously effective inside the arc.
G Dominique Jones (USF) - Played a lot, scored a lot, and scored well. The fact that he and Gransberry are on this list speaks to how bad the talent around them is.
Freshman Second Team
F Donte' Green (SYR) - Spectacular moments, but often out of control. Jacked up too many threes when he has the ability to put any defender on a poster.
F Justin Burrell (STJ) - Raw and over-emotional at times, but his good days are fierce. Shines in a secondary/ reactionary role, with another player facilitating.
F Gilbert Brown (PITT) - This was a toss up with DePaul's Dar Tucker. I think Brown's going to break out next year.
G Jeremy Hazell (SH) - Good scorer will likely step up next year with F Brian Laing's graduation.
G Corey Fisher (NOVA) - Hey, picking freshmen is tough. Probably could have done with fewer minutes, and could work on his game going to the hoop.