Xavier has released their non-conference schedule. The games include the stacked Battle for Atlantis Tournament, home games against Wake Forest (ok, ok, but they're still in a power conference) and Tennessee, plus a road tilt at always tough Alabama. From Banners on the Parkway:
In the B4A tournament lineup are Kansas, Iowa, Tennessee, USC, Villanova, Wake Forest, and UTEP. Keen observers will note that Tennessee, Villanova, and Wake Forest are already sure Xavier opponents for this season. The thought of meeting Kansas with a massive RPI boost on the line is certainly a nice one.
Marquette big man Davante Gardner has been invited to the World University Games training camp. So has Providence sharpshooter Bryce Cotton. And that Doug McDermott fellow from Creighton. I hear he's a good player.
The World University Games will be played in Russia from July 7-16.
Veteran official Ed Hightower is retiring. Hightower, the midwestern-based official who has refereed many national, Big Ten, and Big East conference games, has also spawned a whole lot of photoshopping. Google more on your free time, but this one is my favorite: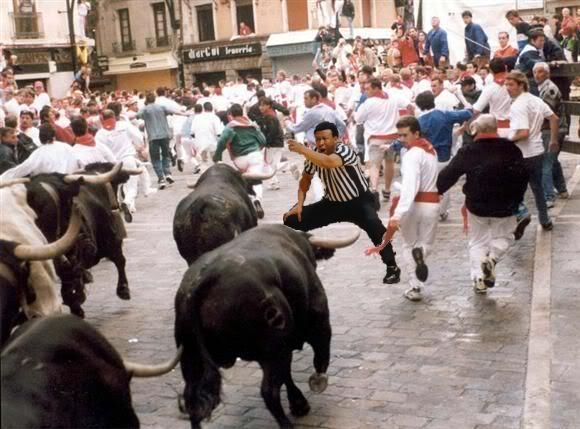 White and Blue Review's Bluejay Bites from yesterday is stacked with intel - we now know the Big East Tournament will start on a Wednesday, end with a final on Saturday. (Will we be offended if the final is Creighton vs. Butler, by the way?) The tennis finals will be held in Flushing Meadows (a venue I've always loved).
Also: St. John's soccer will travel to Creighton to be the Bluejays first home soccer game in the fall.
Our Marquette compatriots at Anonymous Eagle preview the new women's volleyball teams in the Big East for next year. I confess, I know nothing about women's volleyball, but last year's St. John's women's squad went 20-12.
Down in Indianapolis, Butler is doing some renovations to venerable Hinkle Fieldhouse. The arena will still be open (I heard you, Jaden, about to have an anxiety attack about not being able to go to the Butler/ St. John's game next season, don't lie) but the program is looking to modernize a bit:
Senior project manager Craig Hardee said when the renovations are complete, the arena, which has hosted six presidents and countless basketball games, will be recognized for its past and be more accessible to fans, students and athletes.

"We want to make Hinkle more Hinkle and have it modern enough to be 21st century," he said.

When both phases of the project are complete by the 2014-15 season, the fieldhouse will have a slightly reduced capacity with additional chair-backed seats, wider concourses and new bathrooms.
A video tour: